If you're looking for the best gaming room LED lights, you've come to the right place! We all know how important it is to have the perfect lighting in our gaming rooms. The right lighting and ultimate gaming chair can help us get into the right mood and set the tone for our gaming sessions. But with so many different types of gaming room LED lights available on the market, it can be tough to choose the right one for our needs.
We here at IBC24 recently tested a range of LED lights specifically designed for gaming room, to give gamers the best possible gaming experience. Our tech expert took them through various gaming rooms and gaming styles and as well as, we have taken USA customer's feedback into account when selecting the Best LED lights for Gaming Room in 2023.
We have also provided information regarding which LED color is the best for gaming, so that you may choose the best LED light for your needs.
List of the Best LED lights for Gaming Room
We've put together a list of the Best LED lights for your gaming room so that you can take your gaming setup to the next level! Also, If you are looking Gaming laptop under 500 dollars. Then check out Gaming laptop under 500 by clicking on the link.
These lights are specifically designed to give you the best gaming experience, with a range of colors and settings to choose from.
1. Govee DreamView G1 Pro – Best Neon lights for Gaming Room
Govee DreamView Gaming Lights make awesome additions to your gaming experience. You can experience pro-level gaming lighting to enhance your gameplay. The lights will reflect the colors on your screen in real-time without dipping your frame rate in four specialized game-match modes (FPS, RPG, MOBA, Racing)
Key Features:
Immersive Gaming Experience: Two LED neon lights with curve-edged designs are included in our gaming kit for double the RGBIC lighting effects. Your gaming experience will be enhanced by these industry-leading lighting designs.
A cutting-edge design: Inspired by virtual world elements, Govee Envisual technology transforms your battle station beyond light effects to take it to the next level. Furthermore, the all-in-one hub + camera eliminates the need to arrange multiple cables.
Dynamic Audio Visualizer: Experience incredible visual effects that react to the sounds of your games and videos. As well as moving seamlessly with the sound of your speakers, the lights can pick up sound from headphones (3.5mm) to enhance the immersive effects.
Apps customization options: You can create your dream setup with Govee Home App's countless customization options. The DreamView feature allows your Govee lights to react with gaming lights. In-app tutorials speed up the installation process.
Compatibility with the back panel: The neon light strip should be installed on monitors with a back panel curvature greater than 1500R or a gap less than 3cm. A large gap and curvature will result in the light strip pulling up the mounting clips.
2. ZUUKOO Smart LED Light Bar – LED lights with App Control
The ZUUKOO LIGHT Smart LED Light Bar is a great addition to any gaming setup. It provides a great source of light, and it also looks cool. The light bar is easy to install, and it's also easy to use. The light bar is also very durable, and it's also very affordable. A home theater system with ambient lighting looks more impressive because these lights add depth of color. With 16 million colors and 19 dynamic modes, you can enhance your gaming, movie, and music experiences.
Key Features:
Syncs With Music: The smart LED light bar moves along with the beat of your music, movies, and games to deliver a unique sound and light experience. You can watch movies, play games, and listen to music on it.
Several dynamic modes: Choose from 16 million colors and 19 preset dynamic modes. The dynamic modes display different colors and light effects, allowing you to fully immerse yourself in the gaming environment.
App Control: Through the "HappyLighting" APP, you can control music functions, multi-dynamic modes, and timing functions. Adding these features to your home theater can enhance its color depth, making it an even more impressive entertainment system.
Flexible placement: Use the included brackets to mount stream light bars behind TVs, and monitors, or to lay flat. Easy to install and easy to use, these smart lights are easy to use.
3. Philips Hue – Smart LED Lighting with Alexa, Apple Homekit & Google Assistant Under 100 Dollar
LED lights like the Philips Hue light are great ways to improve your gaming setup, as well as make your gaming setup look cool. With the Philips Hue Play, you can enhance your smart home. Stylish and adaptable to any living room setup, the design is aesthetically pleasing. Float your smart light on the floor to brighten your walls from floor to ceiling, or mount it on the back of your TV for a pleasant ambiance.
There are a variety of uses for LED light bars, both inside and outside the home. Light bars made of LEDs can provide a bright, concentrated light that is suitable for task lighting, as well as being energy-efficient and durable.
Key Features:
Voice activated: With Amazon Alexa, Apple HomeKit, or Google Assistant enabled, you can make smart home changes with your voice (Philips Hue Hub and Smart Home Device required). Smart lights from Philips Hue can also be paired with Nest and Samsung SmartThings systems for home automation.
Ultimate tv lighting experience: Adding a beautiful backlight to your television will make it look amazing. The Philips Hue Play can be mounted behind your screen using the clips and double-sided tape included. This enhances your viewing experience by illuminating your screen with splashes of light.
Installation is easy: Using the same power supply unit, you can connect up to three Hue Plays, leaving enough room for other devices. The more Hue Plays you have, the more immersive your smart lighting experience becomes. There is no power supply included in this extension, you must purchase the base kit separately.
Advance your smart home experience: To enjoy the full smart lighting experience, Hue Play requires the Hue Hub.
Also Check: Best magnifying lamp for painting miniatures
4. Juylux Smart LED Light Bar – Ambient lighting for Gaming Room
Juylux LED light bar is the perfect addition to any gamer's toolkit. The LED light on this device is bright and adjustable, and it is ideal for providing illumination for your gaming setup. Furthermore, the light bar is also powered by a USB port, making it easy to keep plugged in and ready to go at all times.
Key Features:
Smart APP Control: You can adjust the RGB light bars color, lighting-changing speed, and flashing mode and set delayed shutdown via your smartphone Bluetooth APP. Create the atmosphere you need with several dynamic scene modes to choose from. It offers ambient lighting with 1800-3000k color temperatures in warm white, rainbow, and pure colors. A built-in microphone synchronizes the TV's backlights with music and sounds.
Mood lighting settings: With our led tv backlight, you can enjoy a wide range of music modes. In total, there are 9 modes available (Stack, Breath, Symphony, Gradient, Flash, Jump, Trail, Adjoint, Bar), all of which enhance your movie viewing, karaoke night, or gaming experience.
Easy Installation & Use: Play light bars can be placed flat or vertically with the attached stands.
This smart led light bar is powered by a power switch, color adjustment button, and mode adjustment button on the back and can be connected directly to USB ports of a TV or PC.
Warranty: You can always count on a 12-Month Warranty and friendly customer service 24 hours a day, 7 days a week.
5. Alinkey Smart RGB Light Bars – Affordable LED Lights for Gaming Room Ideas
Introducing the Smart RGB Gaming LED Lightbar from Alinkey! With this versatile light bar, you can create the perfect gaming environment with bright, colorful lighting to create the perfect atmosphere for your gaming sessions. A full range of colors and effects can be created with this light bar thanks to its RGB LEDs, and it can be controlled via your smartphone or tablet.
Key Features:
Syncs With Your Music: The Smart RGB Light Bars work by listening to the audio from your music, movies, and gaming sessions. For an immersive sound and light experience, the color of the light will change with the beats of the music.
Bluetooth control and smart APP: You can customize the LED Ambient Lighting Bars' colors and effects with the "Happy Lighting APP," plus use zestful music and scene modes with the app. It's up to you!
Multiple applications available: In addition to the timer mode, there are DIY color and video modes, music synchronization, and scene modes. You can optimize your TV viewing by clicking the button
TV and PC compatible: You can enhance your visual experience with smart sound technology by recognising and capturing sound from video games or movies to light bars. There are four modes to choose from (Vivid, Rhythm, Strike, Vibrate), all of which add a great deal to your movie, karaoke night, or gaming experience.
The product list: One user manual and a control panel are included with the product, as well as two light bars, an adapter, two table mounting brackets, two screen mounting brackets, and two table mounting brackets.
6. 2Pcs RGB Under Monitor LED – Best Desk Light Bar with Remote Control
With this light bar, you can customize your gaming experience with 12 different colors and 353 color change modes. Static, breathing, strobing, and fading modes are available. It is also possible to have the light bar cycle through all 12 colors. You can add some RGB dream color and life to your desktop with this very easy, simple, and perfect method. Using the RGB monitor lights, you can set up the monitor quickly! This light bar will enhance your gaming setup!
Key Features:
Great viewing experience: This RGB desk light has 353 dynamic modes and 12 static color modes that provide a great viewing experience.
Wireless Remote & Switch Control: The monitor backlights are controlled by a wireless remote as well as remote control. From the remote control, you can adjust mode, brightness level, and speed. A single remote control can control multiple ambient lights simultaneously. Changing its colors to fit your mood is easy.
Powered by USB & Memory Function: Use the monitor desk light bars anywhere there's a USB port, or connect them to an outlet using the wall adapter. With the USB power supply, you will be able to connect to the mains without any problems. Disconnection from the power supply does not affect the last selected setting.
Easy installation: The computer light bars are lightweight and small. Adhesive pads make it easy to mount the gaming led lights on the screen. Also included are clips for securing the cord length and switch on gaming room lights. RGB light bar kits are commonly used facing backward or downwards toward the keyboard.
Energy-efficient and safe: LEDs produce little heat or energy. In comparison to other gaming lights, the LED lights have a great deal of power without being overpowering. LED gaming desk lights enhance the beauty, coolness, and contemporary look of your room.
7. Govee Glide Hexa Light Panels – Great App and Voice Control LED Light for Gaming Under 200 Dollars
You can get the Govee Glide Hexa Light Panels at an affordable price if you want to create a specific vibe in your gaming room. Using the Govee app, you can customize the settings of these lights via bluetooth. Choose from a massive number of recommended hexagon light panel designs or design your own. Design a lighting scheme that fits your gaming room, living room, bedroom, and more wall decor scenes.
Key Features:
Customize Your House Aesthetics: Each edge has a different light color to produce more effects such as ultra-smooth flowing or gradient colors between LED wall panels. Add extra layering light to your room decor with the translucent shell design.
Visualize Your Songs: 6 Music Sync Modes make each light panel move to the beat. Make a house party or home theater experience even more enjoyable by turning your favorite songs, videos, or gaming into a symphony of flowing lights.
Animated Multicolor Scene Effects: Choose from animated scene effects based on nature, holidays, and more. Your entire design can seamlessly flow with rainbow-like effects thanks to Govee Home App's intelligent recognition of hexagon lights.
App & Voice Controls: Take advantage of Govee Home App's in-depth features such as Music & Scene modes, daily scheduling, and sharing user-created effects. Colors, brightness, and effects can be controlled hands-free with Alexa & Google Assistant.
8. Magiacous Smart Light Bars – Excellent RGB LED Lights for Gaming Room under 50 Dollar
With Magiacous Smart Light Bars, you'll have the ability to see in the dark and look cool doing it! You can take your gaming to the next level with this LED light bar, the perfect addition to any gamer's toolkit. Your gaming experience will be enhanced by this LED light bar's bright and vibrant colors. With the magic of light, you can immerse yourself in your favorite movies, games, or songs. This product is available in 16 million colors and offers countless lighting options, including 9 preset modes, 6 fixed modes, and 4 music rhythm modes
Key Features:
Smart Life App Control Endless Possibilities: Discover endless possibilities, DIY colors, fascinating effects, zestful music, and scene modes with Smart Life APP. Magiacous versatile smart light bar lets you enjoy yourself in the bedroom, shoot short films, or have a party at home with friends.
You Can Immerse Yourself With Your Music: You can experience immersive sound like never before as your music reacts to the beat of the music. With this LED light bar, you can choose from four music modes: vivid, rhythm strike, vibrate, and slow. Color schemes can either be automatically changed, or you can create your own
Timed Off and Easy Installation: The Smart Life APP allows you to set this cool stuff to turn off automatically (from 0-24 hours in minutes). Using the provided stand, you can set up the hue lights next to the screen or stick the RGB light bar to the TV's back using magnets (2 built-in and 2 external).
Feel free to express yourself: With the included magnets, the light bar can be mounted behind a TV or monitor flatwise, upright, or behind a TV or monitor upright. It is suitable for living rooms, bedrooms, photo studios, and commercial places, helping you to release stress.
9. Liforve – Smart LED Triangle Lights for Gaming Room with Bluetooth & WiFi App Control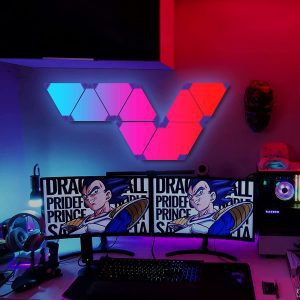 This Liforve Triangle LED Wall light is one of the best additions to any gamer's toolkit. If you want to take your gaming to the next level, this is a must-have. With the light bar, you can brighten up your gaming setup with an even, bright light. You may DIY 9 triangle light panels into the shape of your choice. In the APP, you can choose from 16 million colors. Bring a unique touch to your living room, bedroom, and gaming room. Installation is simple, and all the necessary hardware is included. It's also very affordable, so it's a great value for the money if you looking for under 150 dollars.
Key Features:
APP Controls and Panel Buttons: You can also control your lights with a smartphone app called "Smart Life" or "Tuya". In addition to changing the music mode, the light brightness, and the color of the lights, you can also change the brightness of the lights. You can choose different colors and modes according to your scenes.
A smart voice control system: Using Alexa, Google Assistant, or Siri, you can control your triangle wall lights hands-free. You only have to tell your smart assistant what to do to use voice control.
RGBW Lights that sync to music: Music modes come in seven different types. You can turn on the music mode when you are listening to your favorite music, and the smart wall light with a responsive microphone will turn into dynamic music lights. To the rhythm of the music, the lights will dance.
Warranty: The warranty period is one year, and we offer a 30-day worry-free return and replacement policy.
10. DAYBETTER Led Lights – Under Budget LED Light Strips for Gaming Setup Under 10 Dollar
DAYBETTER Play light strips are designed to enhance your gaming experience by placing them behind your TV or monitor. A remote control is included for controlling the strip, or you can sync it with your Philips Hue bridge (sold separately) to create custom lighting effects. Additionally, the lightstrip can be synced with Razer Chroma so that you can have lighting effects synced with your games. This is the best under budget LED light for gaming room.
Key Features:
Self-adhesive strips are available for installation
There is no white color or pink color in the 3528 led light strip kit
It is only possible to use the led lights for bedrooms indoors
With the 24 key remote control.
It is possible to cut and connect the led strip with another strip of lights
Also Check: Best Portable Generators 2022
What are the Best LED lights for a gaming room?
When it comes to creating the perfect gaming environment, LED lights are a must-have. Not only do they add a touch of style to your space, but they can also help improve your gameplay. Here top 3 gaming room LED lights:
The top 3 gaming room LED lights
Best RGB Light: Govee DreamView G1 Pro
Best Wall Light – Alinkey Smart RGB Light Bars
Best Smart Light- Philips Hue
Why do you need LED lights in your Gaming Room?
Fully immersive gaming experiences don't just happen by themselves. When you add lights to your gaming setup, you can mentally transport yourself right into your action-packed virtual world. There are many reasons why you need LED light for the ultimate gaming experience:
Enhance your surroundings:
Exhilaration, adventure, and fantasy are all part of the gaming experience. It is possible for your room to become a magical sanctuary with this surreal feeling, and this effect can be enhanced even further with the right lighting. You can see your gaming room from a whole new perspective with gaming room lights.
Get into the Right Gaming Mood:
A ceiling fixture that shines brightly white or shines softly yellow might not suit your zombie-fighting mood. When playing high-stakes games, you need to remain calm but focused. It is important to set the right mood during the most critical moments of your game with unique fixtures.
Display your Personality:
The gaming room should be a place for you to relax, enjoy yourself, and forget about everyday stress. A room that showcases your personality would be the perfect setting for this all. Personalized LED colors, effects, and styles let you make your space your own.
Avoid Glare and Shadows:
Most parts of your room are illuminated by standard ceiling fixtures, but not all. You might end up with a black screen on your gaming PC or TV. It is possible to have enough illumination in a gaming room to be able to see your keyboard and mouse (or controller). Additionally, they can reduce any unwanted glare from above.
Make your environment unique:
You can use lighting for so much more than navigating around your house at night. Your imagination run wild when you surround your space with beams of color and can feel comfortable and inspired by floating cloud projections and flashing LED strips. The transformation of your room will leave you speechless.
Related: Best Color Light for Sleep
How to connect LED Light to APP?
Download the APP provided by your LED light brand, connect the phone to 2.4GHz WiFi, and turn on Bluetooth.
In order to trigger the network distribution, press the switch on the light panel controller long enough until the panel light flashes, open the APP, click the "+" in the upper right corner of the screen, and enter the WiFi password for your device.
How to choose the Best LED lights for your Gaming Room?
In choosing LED lights for your gaming room, there are a few things to keep in mind. The first thing you need to consider is the size of the room. You will need more lights if the room is larger. Secondly, you should consider the type of gaming you do. For hardcore gamers, bright lights are essential for seeing the action. Your third consideration should be the style of your room. LED lights are more stylish and sleek if you have a more modern style. Your gaming room budget should also be considered. Your LED lights will have more options the more money you spend. Here is what to look for when choosing the Best LED lights for your gaming room:
Colour: It is important to think about the light's color first. The preference for white light varies from person to person. When it comes to a more immersive experience, colored light is the way to go. If you want to create a more relaxed environment, white light might be the better choice.
Brightness: The brightness of the light is also important to consider. To ensure you can see your screen, you need a light that is bright enough, but not so bright it blinds you.
Location: Location is everything when it comes to LED lights. Ensure that the lights are positioned strategically to provide optimal lighting for your gaming setup.
Budget: You should also take your budget into account when choosing LED lights. In order to find an option that meets your needs and your budget, there are a variety of options available.
LED light Control Methods: First APP control, Using a mobile app, you can switch between RGBW, scene modes, music modes, timing functions, and more. The second is Voice control its Works with Alexa or Google Assistant and can be controlled with a simple voice command and the third is Manual Control.
Reviews: Last but not least, make sure you read reviews before deciding. It will give you a better understanding of what different options are like and what other gamers think.
You shouldn't have any difficulty finding the Best LED lights for gaming rooms if these factors are taken into consideration.
What LED Light Brand is the best for Gaming?
There are a lot of different LED light brands out there, so it can be tough to know which one to choose. Here are the Best LED light brands:
Philips
Govee
DAYBETTER
Generic
Alinkey
Magiacous
ZUUKOO
LIFORVE
How do you install LED lights for gaming?
It can be a bit challenging to install LED lights for gaming, but with a little patience and planning, you can make it a rewarding experience. To help you get started, here are a few tips:
1. Make a decision about where your LEDs should be placed. Your gaming setup's size and layout will determine this. Having an open space will give you more flexibility when it comes to arranging your LEDs. The placement of them will need to be more strategic if you have a small space.
2. Choose the best power source for your LEDs. To run all of your LEDs, you'll need enough power. It may be necessary to use a separate power supply if you are using a lot of LEDs.
3. Make sure you choose the right type of LEDs. Different LEDs have different advantages and disadvantages, and each has its own pros and cons. When choosing LEDs for your gaming setup, make sure they are the right type.
4. Place your LEDs in place. Choosing the right location and type of LEDs is the first step toward installing them. You may need to take your time and be patient with this.
5. Have fun with your new LEDs. You're now ready to start gaming in style with your LEDs installed. Don't forget to show off your work to your friends once you've improved the lighting.
FAQ for the Best LED lights for the gaming room
If you're looking for the Best LED lights for gaming rooms, here are a few things to keep in mind.
Why RGB so popular for Gaming?

Why RGB so popular for Gaming?RGB lighting has become increasingly popular in recent years, especially in the gaming world. There are a few reasons for this. First, RGB lighting can be used to create a more immersive gaming experience. It can also be used to add a bit of personality to your gaming setup. Lastly, RGB lighting can help improve your game performance by reducing screen glare and making it easier to see your keyboard and mouse.
Which Color Temperature is good for gaming?
The color temperature of sunlight is around 6500K, which is the color temperature most gamers prefer. You'll see bright and vibrant colors on your screen when you use this color temperature. The color temperature is also good for reducing eye fatigue.
Is RGB light Good for Gaming?
The RGB backlighting of a gaming monitor can have indirect effects on the gameplay, as well as cosmetic ones. In addition to improving contrast, RGB LEDs on the back of gaming monitors reduce eye strain.
What is the best LED strip or LED bar for gaming?
You have two excellent options if you want to decorate your gaming room with RGB lighting: strips and bars.
You can place LED strips almost anywhere, and they give you the freedom to place your lighting almost anywhere since they are exactly what the name implies, sticky strips of light you can stick anywhere.
The LED bars are a bit different because they are left in a spot pointing somewhere, and if they can be attached to walls, they may require more setup than LED strips.
Are there any negatives to using LED lights for Gaming?

LED lights are becoming increasingly popular for use in gaming, as they offer many benefits over traditional incandescent bulbs. But are there any negatives to using LED lights for gaming? Let's take a look:  The cost can be high, LED lights can be distracting for many gamers, and they can cause headaches and eye strain.  However, these drawbacks are generally minor, and you shouldn't let them prevent you from taking advantage of LED lights.
What is the difference between RGB and white LED lights?
The main difference between RGB and white LED lights is that RGB LED lights can produce a wider range of colors, while white LED lights can only produce two colors.
What color improves gaming?
Your personal preference and the game you are playing will determine your choice. In games that require a lot of hand-eye coordination, blue light may be the best option. You should use a red light if you are playing a visually demanding game. It's ultimately up to you to experiment with different light colors to find the one that works best for you. Light colors for gaming do vary, so find the one that gives you the best results and use it consistently.
What lighting do gamers use?
The choice is totally up to the gamer, but the majority of gamers prefer RGB and neon lights over other types of lighting. 
Where should I put led lights for gaming?

LED lights can be used for gaming in a few different places. Located on the back of your monitor, one is on the left side. As a result, you will be able to see the game better, and the mood will also be set. You can also place them on your desk. The ambiance will also help you concentrate on your game. You can put LED lights on the back of your laptop if you own one. As a result, you will be able to see the game better, and you will also be able to enjoy the game more. Finally, you can also put them on the wall. By doing this, a more ambient look can be created, as well as any glare on the screen can be reduced.
Final words
To light up your gaming room, you can choose from a variety of LED lights. But they aren't all created equal. In terms of creating the perfect gaming environment, some are better than others. As a result of our research, we have determined that App based or remoted controlled LED lights are the best for gaming rooms. You don't have to get up and fiddle with the lights to change the mood of the room. Hopefully, now that you know what the best gaming room LED lights are, you can get started on your gaming room. I hope you will also like this best rated cordless stick vacuum for your gaming room to keep it clean and neat.